Last week I took my son to a night cricket game called T20 Big Bash cricket. It was very exciting. It was like being at a rock concert.

If you have seen cricket before, then you it as a sport played between 22 guys dressed in white, standing around for six hours a day chasing a red ball. However, T20 Big Bash League cricket is very different. It's a high-energy, entertainment packed game, played at night time.
In short, you could say this version of cricket is about smashing and crashing as many runs as you can, as fast as you can. T20 matches take just over three hours from start to finish and deciding the winner is simple. The team with the most runs wins.
You could say it is an Americanised version of the game with bands performing before and half-way through the game, and with fireworks at the end of the game.
クリケットルール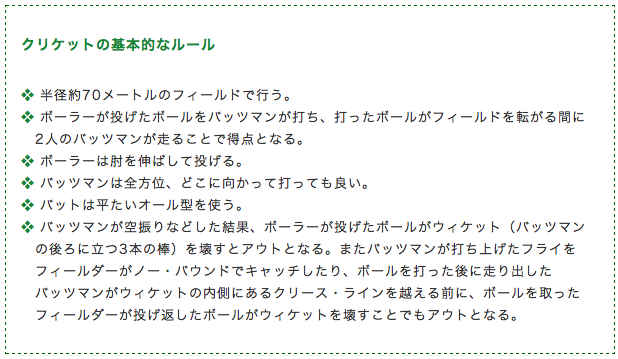 T20 Cricket has different rules.
Batsmen need to run between the wickets to score but if they hit the ball to the boundary rope on the bounce they automatically get four runs. If the ball is smashed over the boundary rope and into the stands, they get six. As the name of the games suggests, teams have just 20 overs to bat.
In each over there are 6 balls. So each team has 120 balls to try and make as many runs as possible. Both teams bat on the night and to keep the fast paced action going, new batsmen have to make it to the centre of the field within 90 seconds of their teammate being dismissed. Teams are given penalties for failing to bowl their 20 overs within 80 minutes.
Finally, cricket is nothing like baseball.